Among the most enduring and popular examples of 'Carishei Canal Art' are the watering cans… I'm not sure how many are actually used for watering as clearly many have put to excellent use as decorative planters…
"new items deliberately reflecting traditional style"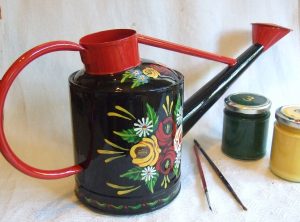 While mostly 'Carishei' up-cycles vintage and antique objects, occasionally we find retro styled new items reflecting the charm of bygone days. Watering cans are a great examples of this where new items deliberately reflecting traditional style.
Starting out as identical, each are painted in an individual canalware style…
"what are the odds of that?"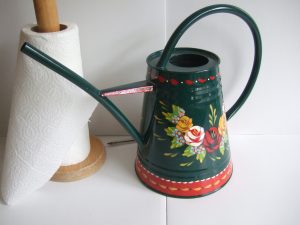 A while back two other contemporary cans sold in the same week. A few days later I was contacted by one buyer asking to return the item for a refund!
It turns out that the other buyer and her shared the same friend in London who's birthday was looming.  Inadvertently they'd both purchased the similar items independently of each other in the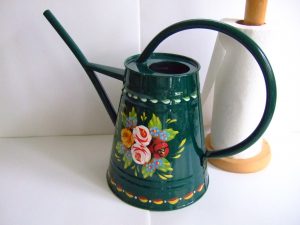 same week. They were the last two available! What are the odds against that? Whatever the odds are I was astonished by the co-incidence.
One was returned by the equally astonished buyer who's review is show below…
"watering cans in all shapes and sizes"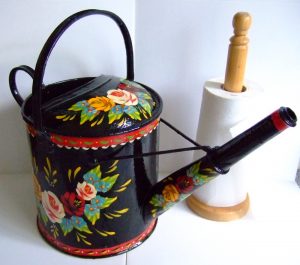 Steel watering cans can be extremely old and do stand the test of time because in most case they are galvanized. Galvanizing is a steel treatment which is very robust and rust resistant.
This treatment in manufacture also means they make fantastic planters for even outdoor use. However, we do recommend they are brought in during the winter to protect the paint finish from the hardest of frosts. For greater protection in this use a hole should be cut into the base for drainage.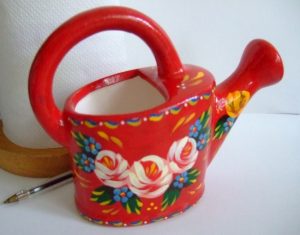 From the largest of watering cans to the smallest ornaments. The small examples are made of pottery and intended as purely decorative. They often have larger openings giving them a practical use as nik-nak storage too.
"a choice of three base colours"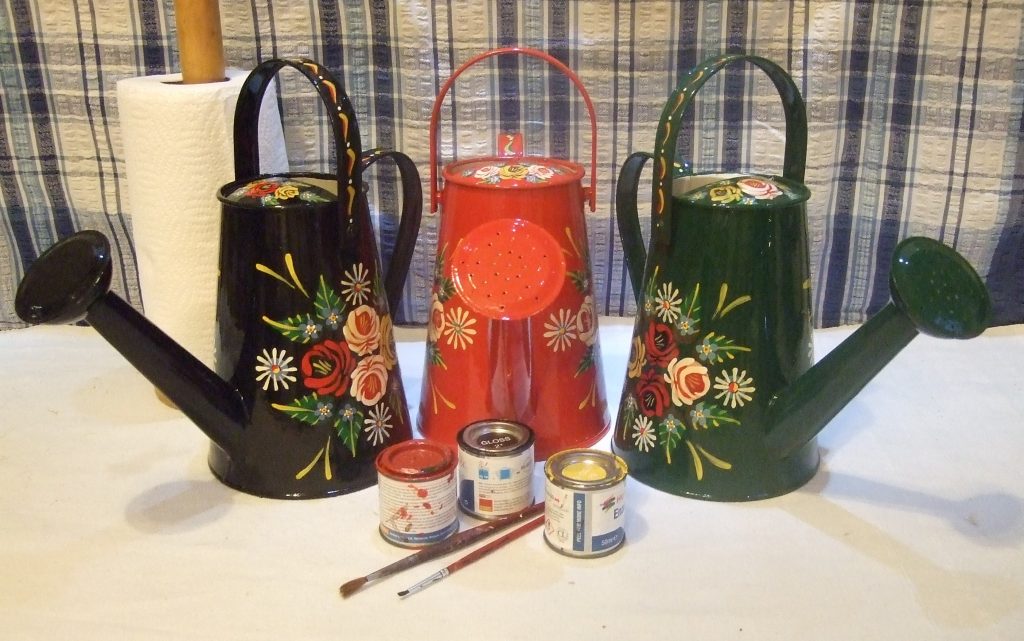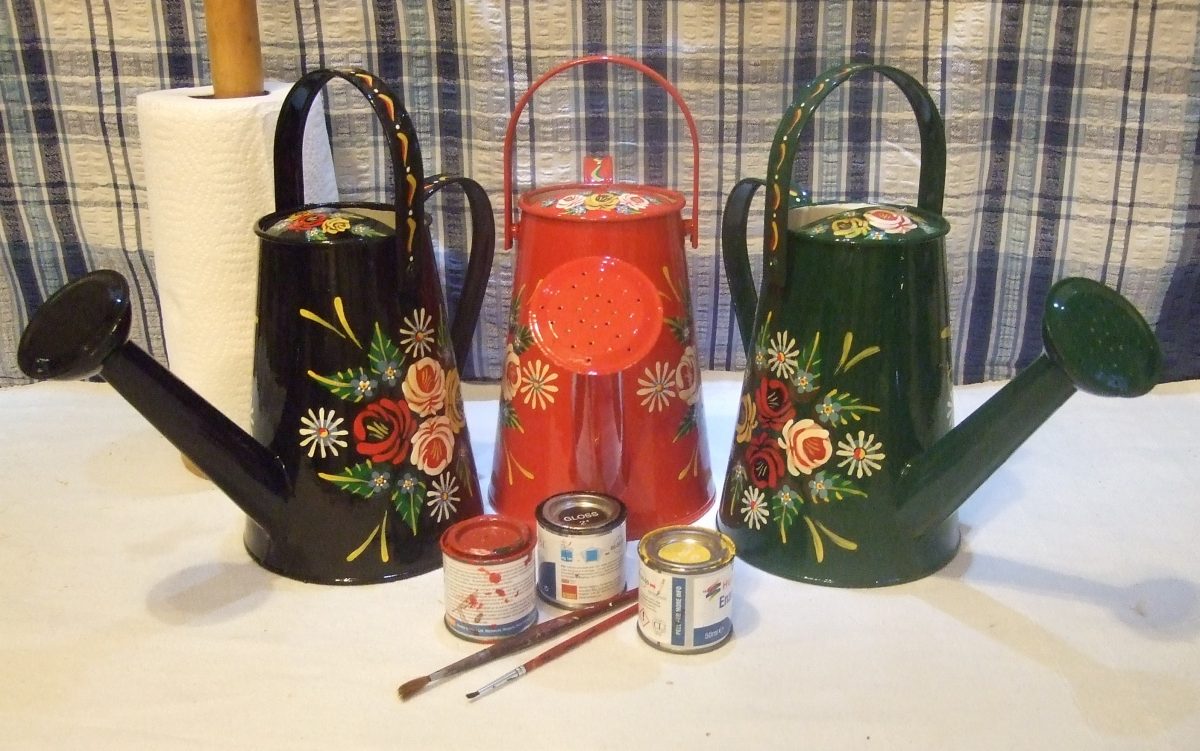 At the time of writing this, due to a fortunate discovery I have three watering cans of this style. With this variety buyers can have a choice of three base colours. I've also given them a similar style of decoration. The red can could not have red roses though because of the clash so just white and yellow.
I did have one on-sale already and another refurbished ready for painting when I found a third at the back of the "project shed"
Any questions or comments? Please use the box below and I'll try to answer as soon as possible…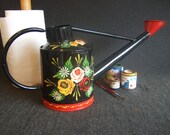 Gail on 12 Feb, 2018 – This classic style watering can has lovely lines & looks great with this beautiful paintwork & durable finish, making it both attractive & functional. Bought as a gift, the recipient is bound to be delighted.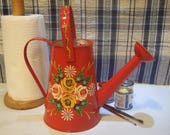 Tonya on 27 Dec, 2017 – Love this, I gave it as a gift but I want one myself now. Top quality work and shipped very promptly.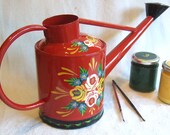 Charlotte on 09 Sep, 2017 – Great item can't wait to give it as gift. Fast delivery and great quality. Would definitely recommend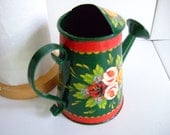 Sally on 20 Dec, 2015 – Loved this bought it for a friend for a Christmas present and it went down an absolute treat she loved it! Thank you very much, arrived as described and great communication with the seller thanks again x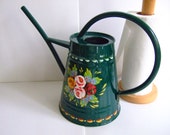 Rosie on 30 Sep, 2015 – Absolutely beautiful watering can bought as a gift. So lovely in fact the birthday girl got two almost identical ones! Great communication from the seller and so helpful!!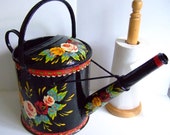 Cathy on 31 Mar, 2015 – Everything was absolutely perfect… The piece truly is a work of art… I love it… Arrived in perfect condition from the UK.. I will be back to purchase more… The best customer service ever !!!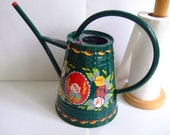 Piers on 09 Dec, 2014 – Great product lovingly made, thanks